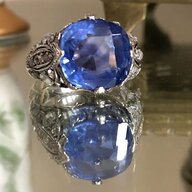 Joined

Jan 5, 2020
Messages

206
While browsing in an antique shop this weekend, I found this pearl pendant. I've wanted a SS pearl pendant ever since I tried one on of a similar size at one of my favorite jewelers last year, but had put it off for other priorities.

I asked the person at the counter if the owner of the item was around. I wanted to get as much info on it as possible in addition to what was on the tag (14k Golden Australian South Sea pearl 16.5mm X 13mm).

I was hoping it would have a certificate as well. It did not. The only info I got is that the person who initially had it owned a jewelry store in Hawaii and this was from their personal collection. Not a lot to go on.

I took a leap based on instinct and some limited experience with pearls.
I spent time last year looking at tons of pearls of various types while wedding jewelry shopping.
I had tried on GSSP earrings last year and fell in love, but they were out of the ballpark price wise.

With regard to price on the pendant, they were asking $995.
I offered $700 and they accepted.
I'm hoping I haven't overpaid.
Trying to find exact comps on PS recommended vendor sites was hard.
Even if the sellers description of my pendant was entirely accurate, I didn't see any in this size.

I absolutely love the petal setting and the pearl has a luster unlike anything I've seen before.
The color and texture are sublime.
If pearls could be described as a textile, this one would be cashmere.
It has a real softness. I love the size and weight of it as well.

I'm excited about it and can't wait to wear it with my favorite sweaters this winter. Still figuring out chain options. I love the look of a lariat style so I'll probably explore that.

Can any of the pearl experts weigh in with your impressions of whether it looks as described?
Or is it impossible to know without a certificate?
Thanks in advance!