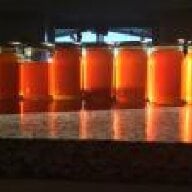 Joined

Apr 15, 2015
Messages

272
I always get the best setting info here.

I have always had a few minor problems with my engagement ring, and I'm thinking about giving it a bit of a facelift. I'm not sure what can be done to it, leaving the actual ring in place. It was blessed by a priest at our wedding, and this means a lot to me. I don't want a new setting. It's a pretty standard late 90's 3 stone ring in platinum.

1. The side trillions don't sparkle. I'm guessing they don't have a very good cut since the clarity and color are good. Or are trillions just duds? They have some white light return, but they seem kind of flat, and have little fire. Is it relatively easy to get them replaced? How do I go about doing this?

2. The prongs. I've always been very "meh" about the prongs. I had them re-tipped recently and they look like junk. I really want to get them redone by someone who knows that they are doing. Is is possible to have blobby prongs remade in to graceful claw prongs? It's a standard basket setting.

Which brings me to #3-

3. The profile is very boring. I'm thinking this one is something I will have to deal with, but it would be nice to add some interest to the side view, since I see it so much. Maybe some little diamonds to the basket or something. Would that be impossible at this point, since I don't want a new setting? I also don't want to change how it looks from the top.

If any of this stuff can be done, how do I go about doing it? Are there any vendors your recommend that will just remake the prongs? It seems like kind of a small job.