Joined

Oct 9, 2020
Messages

2
Hello! This is such a great community that everyone has put together here!
My daughter is currently only 1.5 years old, however I'm looking to purchase a gift for her now, to give to her when she turns 16 (or maybe 18? I feel like sweet sixteen is the more typical one). I had a necklace that was given to me as a child, but held on to until I was old enough to appreciate it, and I always liked that it had that history that it was given as a gift when I was little. I'd like my daughter to have something to cherish that has the same background.
Right now I'm looking at the Tiffany & Co. Schumberger Egg Pendant, in 18k gold and Turquoise: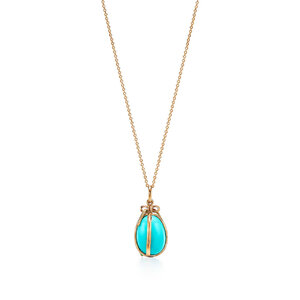 It's $2900 CAD, which is pushing the limit, but I absolutely love the design of it. I have some questions and I wanted to get people's honest thoughts! Don't hold back!
Is this the kind of gift you think a 16 year old would appreciate having?
Do you like the pendant itself?
Are there other pieces that come in at a lower cost that you like or think would make a great gift?
Thank you so much for your help!