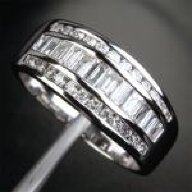 Joined

Oct 13, 2011
Messages

104
I've been wondering about this for a while now - does the origin matters in diamonds or not?
I've been searching online to get a decent answer, but the only information I could fin was about Pink diamonds from Argyle Mines in Australia. So would it be best to just get Pink diamonds certified with Origin Opinion, or all kind of diamonds or none (natural of course)?
I got a lot of diamonds that I have to get GIA certified.
I got over 50 diamonds and one of them is a;
Chameleon (bright yellow-green -to- strong vivid orange) 2.11 carat - should I get Origin Opinion on this one or doesn't it matter at all?
I also got one more question...
I've been in the diamond business for a while (years), and I wonder if it's possible for a Pink diamond to be Chameleon?
I've never seen anything like this one - it's Light Pink in fluorescent light - but it's Deep Reddish Purple under incandescent light.
All answers and opinions is welcome!