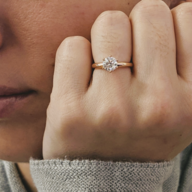 Joined

Jul 27, 2018
Messages

591
I'm working on my engagement ring upgrade and the plan is to get the same setting I had before but in rose gold. The setting is from Hayden Cudworth, and they don't do custom pieces so I will probably have to get my wedding ring somewhere else unless any of their wedding rings will work for me.

When I asked them about the makeup of their white gold before, all they could find out was ".585 gold and a mix of zinc, nickel, alloy, silver, and a small percentage of copper." I'm going to ask about the rose gold makeup before I order but assuming it will be a similar amount of info, basically just the percentage of gold and then the other mix but not exact percentages.

As long as I get the same karat rose gold, will the colors vary enough to notice if it's a different makeup, or is it not something I need to worry about?