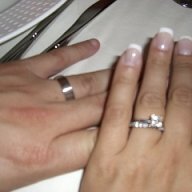 Joined

Aug 28, 2006
Messages

103
So my wedding is on August 4 and all of a sudden it seems very soon!

We have figured out so much, but it is becoming very real now! Today we had our food tasting, and it was sooooooooo fun!

Does anyone else feel overwhelmed with decisions?

I still have to choose how I am going to do place cards. Right now I am thinking rows of ivory cards with rose petals in the rows between. I also was thinking I could put votive candles in the rows of rose petals.

Does anyone have any other ideas or do you think the candles will be dangerous if people are reaching for their card??? I am paranoid. ha

Anyone know anywhere you can order real rose petals? I think my florist might charge a lot.