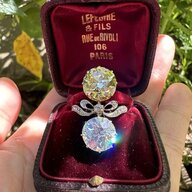 Joined

Feb 12, 2018
Messages

2,509
I've wanted a Georgian belcher chain for a while now, but prices are crazy high. They usually run about $2,000 & up for shorter chains. Some are pinchbeck which is great for the historical value, but I wanted solid gold.
I finally found one in December for a reasonable price. It's solid 15K, and 20" if I recall correctly. She's currently soaking in the "hot tub" to get 200 years of neck crust off. At least I know it's actually antique!
It shipped 12/21, fell off tracking 12/26, supposedly went to Helsinki when I called USPS to inquire, and reappeared earlier this week.
I'll take more pics once she's fully cleaned up.