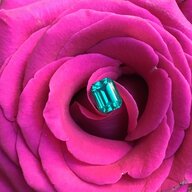 Joined

Apr 10, 2017
Messages

746
Hi all, would love your opinion on a ring I saw online. Real Victorian piece or reproduction?
I think the molding is not as clear as what I've seen in real life on true Victorian pieces, which makes me think this may be a reproduction ring made from casting/crude finishing.
No hallmarks except 18k which looks like it was hand inscribed/engraved, not stamped.
On the other hand I do like the color of the stones—they don't look obviously as emerald doublets. Could be paste (given lack of inclusions, uniformity of color). I guess they "could" be non-ideal color emeralds if I'm feeling very lucky lol. Although true Victorian Jewelry used plenty of paste and doublets too.
How much is a fair price that you'd be willing to risk on it? I'm tempted to take a chance...but I prefer true antique pieces, not reproductions, and would be less tempted to take a chance if the consensus is that this may be a reproduction.