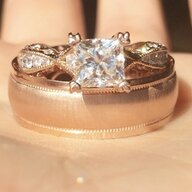 Joined

May 19, 2020
Messages

79
Hello friends!
I am working on a ring project for a 14k white gold, French cut sapphire halo ring with a 7.5mm (around 1.67 carat) center diamond. I want to do an Old European Cut diamond. I feel very strongly about doing a OEC, and don't care for RB in this vintage setting.
Here is the setting that I want, it is from Ivy and Rose Vintage.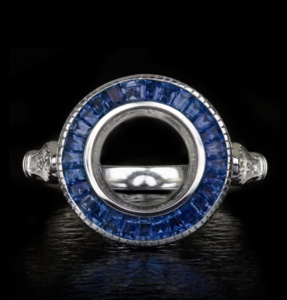 Since I am currently living in Southern California and supporting my hubby who is getting his doctorate, I don't have the funds for a 1.67 carat natural OEC diamond right now, yikes! Therefore: lab diamond!
I love Rhino's selection and customer service. I have purchased from him before, and I trust him and his products. I contacted him about doing a lab OEC and he replied right away and was happy to help me out. However, doing a lab OEC from Rhino in this size would be about $4,000. That's a little more than I was expecting for a lab. HOWEVER he guarantees his diamonds to be minimum VS and G-H color. And if the lab comes out whiter and brighter, you don't pay extra. I want a white diamond for this project.
I have reached out to Adam at Old World Diamonds (multiple times) and I am just not feeling the love with his customer service.... Plus his diamonds can be a little wonky and not perfectly round, which I need for this setting. (I do love wonky diamond though).
Does anyone have an OEC lab diamonds in general, or specifically from Jonathan at Distinctive Gem? Can anyone show me pictures?
My other idea was to from Estate Diamond Jewelry with their Tallis ring to "hold me over" until I can afford a diamond. This is $2,400, Platinum with a 1 carat aquamarine center stone. Basically the same design, half the price, with aquamarine. I am just worried that I won't love it because it's not a OEC diamond like I want, and that I will scratch the aquamarine to crap. I am not a gentle person on my jewelry, and have destroyed 1 garnet and 1 morganite so far.
I have seen many other designs similar to this, but the center stone is smaller than what I'm looking for. I don't want to go below 1 carat for this project.
Anyhooos, does anyone have any labs from Jonathan at Distinctive Gem? Does anyone have any OEC labs from anyone?