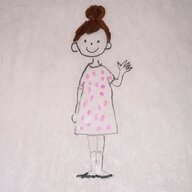 Joined

Feb 2, 2016
Messages

9,625
This morning I was in the car to drive my son to camp and I notice that my concrete angel statue that has sat in my garden for the past ten years was gone. This statue had to weigh better than 50 pounds and sat under my son's window. We have a ranch so that is too close for comfort for me. Here is the thing though, last year I had another angel statue stolen, this one was a lot lighter however but that I had for almost 15 years and just like that she was gone.

I'm not really sure what to think, the first one was maybe a crime of opportunity but this one was really heavy and wouldn't be so easy to just carry away. Granted I should have moved the second one after the first one walked but I didn't. I really didn't think that it would happen again. Now I have a fountain and bird bath as well as other little decorations that someone might decide they like but is the answer really to clear out my entire front garden?

I just never thought people would be so brazen. I told my husband that we are cleaning out the shed tonight, he has expensive chainsaws and tree climbing equipment that could easily be sold or pawned. Sad that we have to think this way.

Anyone else been a victim of garden theft?