Hi Everyone,
I just received the E-ring I ordered from Brian Gavin today, and I noticed that none of the 6 prongs appear to be making good contact with the diamond. Most have contacts at 2 obvious points, with some just making contact at 1 point (see picture). I don't know anything about diamond setting, other than from this:
https://www.gia.edu/quality-assurance-benchmark/setting-round-center-stone-ring-platinum-prong
, so I just wanted to get others opinions on whether this is normal/acceptable for a 6-prong setting, and whether it would be reasonable for me to ask them to fix it.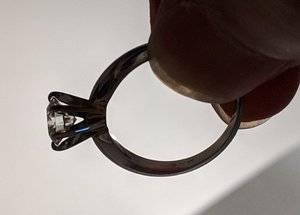 Thanks for your help!