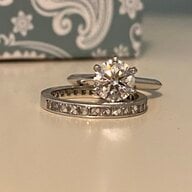 Joined

Apr 11, 2011
Messages

808
I've decided to ask this here because I have found that PS members are both extremely nice and very pragmatic, and that's the kind of advice I need in this situation.

About a year ago (more?) a friend (A) and I agreed to run the Chicago Marathon together. Once registration opened (February) we convinced another friend (C) to run it with us. Shortly after C signed up, A and I talked about whether we should invite C to share our hotel room. A was all for it and C was pumped to have a place to stay.

For the last 4 months, C and I have dedicated every spare moment to marathon training. She works 50 hours a week and has 2 kids. I work 70-80 hours and 6 days a week on a schedule that rotates between days, evenings, and nights. Our friend A never really found her groove with respect to marathon training. COMPLETELY understandable - she's a fairly new mom and has a lot going on in her life. About a month ago (so, 6 week pre-marathon) A wrote C and I an email bowing out from the marathon. She also wrote, "I'm still planning on coming to Chicago to cheer y'all on but in reality I prob shouldn't spend the money if I'm not running the race." C and I wrote back emails about how we understood, it was tough to train, etc. C mentioned that she should send us her confirmation ticket and we would pick up her race packet and send her the t-shirt. A did not respond and I have not heard from her in the intervening time.

Just now, on social media, A mentioned to a third mutual friend who lives in Chicago that she woudl be seeing her in "weeks." The marathon is in about a week and a half, so it makes me wonder if she's actually planning to come. While I would LOVE to see her, I'm concerned about how this will all play out. C and I are both on the same page as far as the weekend - have lots of fun, but no late nights, minimal alcohol, and a 26.2 mile jog on Sunday morning. I have a feeling that A, in Chicago for the weekend sans baby, will want to get wild. Normally that wouldn't be a problem, but after 4 months of intensive training (during which I slept like a ROCK) I am now tapering and one of the consequences of decreased mileage for me is lighter sleep. I've begun to lay out my concerns to C, and all of this will depend on where she stands.

Would it be ok to:
A) Tell A that if she wants to stay with us, that's fine, but we will be in pretty early and going to sleep, expecting not to be disturbed?
B) Just tell A that she should probably make other plans re: accommodations
C) Not say anything and just deal with it in the interest of the friendship

And if you got this far, thanks for reading!