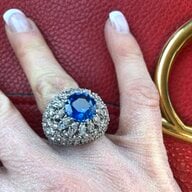 Joined

Dec 15, 2021
Messages

175
I need some input on this piece pretty quickly please.
I fell for it the second I saw it on IG.
I had a lovely transaction and it arrived promptly.
The seller noted the condition and I knew it has some damage to the enamel and that's not what bothers me.
The problem is the seller stated it was a finger size 6.25 but it is a full half size smaller (5.75) and doesn't fit any of my fingers!!!!!!
(
The engraving goes all the way around the inside of the shank "G.G." "16th Avril 1875" and it has a dogs head on outside shank so we know the shank cannot be messed with in any way!
But is there anyway you guys can think that I could add balls to the underside of the portrait part (which is blank) to make it small enough to fit my pinky or it it too much hassle or impossible???
I need to decide if I return by tomorrow!!!!
Thx in advance….