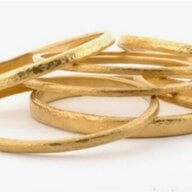 Joined

Jan 26, 2003
Messages

22,132
I fell in love with a garnet ring being sold on ebay, but couldn''t buy it or one like it anywhere. I sent Juan Lozano in Mexico (that''s Juan of Van Graff) photos of the ring and 4 very inexpensive 8mm colored stones I bought on ebay and he made me 4 rings in the style I love.
One stone (the one I spent most for) is supposedly a cherry red fire opal. The other three are topazes, one in a usual topaz blue, one in teal, and one in green. I am not sure *what* treatment(s) with they have received to obtain their color, but (in this case) I do not care. I love the *COLORS* of the stones and the setting.
I have more photos that show detail, but this one shows all four rings together
.