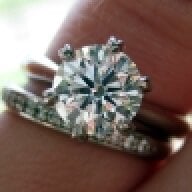 Joined

Mar 24, 2007
Messages

1,769
What severity or duration of foot pain necessitates seeing a doctor? Sometime in the last couple of days I started noticing an intermittent and annoying pain in my left foot. Today, while out running errands, it became fairly constant, though the level of pain is still mild enough that I don''t think it''s causing me to limp. It''s on top, located somewhere in the vicinity of my 4th metatarsal. It hurts whenever I flex my foot upwards, is definitely aggravated by walking/standing, and hurts if I push on it. I wouldn''t call it sharp, like a knife stab, but it is pretty localized. Maybe more of a sharp ache? I''ve been off my feet for several hours now and it still aches...

Anyway, my errands today were, ironically, centered around finding a new pair of running shoes as mine are past due. I suspect the pain/injury is related to my worn out shoes, so I''m thinking I''ll give it a few days in the new ones before seeing a doctor. However, I''ve also heard how foot problems can escalate (arthritis/bone problems run a-muck in my family), so I''m also wondering if I shouldn''t ignore it.

What would you ladies do? Any experts out there??