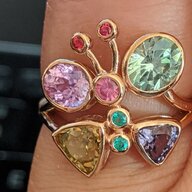 Joined

May 13, 2018
Messages

2,898
I feel like such a glutton sometimes. Just downed a personal pizza and am still thinking about foods.
I was originally thinking about different cuisines and realized I haven't had Peruvian, Persian, or Burmese in a while. Those cuisines, along with Japanese, Mexican, Jamaican, Thai, and Italian, I would consider occasional splurges that I don't think I'd fancy every day. Italian and Japanese I find really good but I need some spiciness in my life.
On the other hand, I think Mediterranean (I'd mix dry chili flakes or roasted peppers in falafel and shwarma), Chinese* (
35 regional cuisines, so much variety that this is kind of like cheating
), and Korean are the cuisines I could imagine myself eating every day if I had to.
What foods do you love? Enough to eat every day, or crave on occasion? Do you eat out for those foods, or cook them yourself? I'm always curious what else is out there I haven't tried, so please share your good food cravings (junk foods would be off-topic).
*authentic Chinese food only for me; Americanized Chinese food always disappoints because I know what it could have been