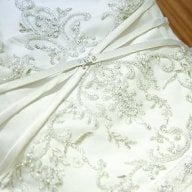 Joined

Aug 16, 2007
Messages

3,445
Some of you had asked for an update after my plea for help with having my dog interact with my brother''s dog over Easter, so here it is!
Overall, I was really impressed with how well-behaved our puppies were! We had the dogs meet outside, but my brother was still at work, and Raja (the German Shepard mix) isn''t well trained on the leash yet and kept almost knocking my sil over and jumping on the pregnant me, so we quickly took them inside. We let them run around downstairs, and although Raja really wanted to play with Brandy, Brandy was just kinda running around not knowing what was going on, but at least she was wagging her tail and not being aggressive.
For the most part, all weekend, Raja would try to play with Brandy, and Brandy would not really respond. I think once Raja is a bit older or if we ever had a chance to have them together for a long time, they would actually play together, but Brandy just isn''t much of a playing dog.
When the dogs were up and walking around, they were totally fine with each other! They even shared their food, etc. However, we did have a few rough spots. Whenever Brandy was sleeping, if Raja would come over and start sniffing her a lot or try to pounce on her, Brandy would growl. We figured that was pretty normal, it was just Brandy telling Raja she wanted to be left alone. We had a slight issue with giving them treats together, because they would each try to steal each other''s treats, which we also figured was pretty normal dog behavior.
The one thing that really bothered me was when they were playing. My mom had brought lots of squeaky toys from the dollar store for them, and they both like playing with these toys. Raja would bring a toy over to us (sometimes when Brandy was asleep) and we would throw it. Brandy would get interested and act like she wanted to play. So if we threw the toy again and they both went after it, if Brandy got to it first, she would then turn and growl at Raja like she was being possessive of the toy. I didn''t really know how to correct this. We eventually only played with both of them if we had two separate toys that we threw for each, but even then, sometimes Brandy would go after Raja''s toy. So after that, we just made sure to try to keep them separate when playing.
Again, I think once Raja is a bit older and not constantly in play mode (she had soooo much energy!) she and Brandy will get along even better. I''ve attached a pic of them laying right by each other, and then I''ll attach another of them running around outside.
Thanks again for all the suggestions!