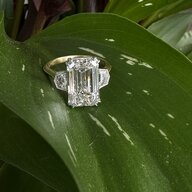 Joined

Feb 2, 2018
Messages

136
This is my first post here and I am really excited about adding pearls to my wardrobe! I don't know why I haven't yet, seeing al of the pieces in the action thread really drove me to kick it into high gear.

I have one set of freshwater pearl studs from 25 years ago and have been combing over the threads here for nights on end looking to purchase my first strand of Tahitians!

I would like to start building my capsule jewelry collection with a good set of larger Tahitians. I've been on all the suggested vendor sites, Etsy, and the other pearl forum. (I'm in hiding and trying to read as much info on pearls as I can.)

I'm torn and wondering what you all would do. The budget is about $1k, possibly slightly over. Is this enough to get a "good" beginner set? I'm turning the big 4-0 next year and would prefer larger pearls that are around 10mm at least. I'm 5'3" and really own a very neutral wardrobe. (Blacks, grays, cream, jewel tones.) Blemishes are definitely ok if lustre and shape are fairly uniform, looking for off-round and baroque. I find I can over look beauty marks for lively pearls.

I've been in contact with Cees and awaiting replies from a few vendors, all of whom I am sure are slammed with holiday orders.

I have this nagging voice that says to try an inexpensive strand from Etsy to see how I like pearls before diving into a larger purchase.

What would you do with about a $1k budget?