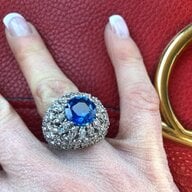 Joined

Dec 25, 2019
Messages

52
Hi All,
I've been a PS member for a long time but never posted. I'm not sure why...I am an O.G. on tPF and post a lot there.
So I'm just going to jump in with both feet.
I have a nice jewelry collection but not many colored stones.
I have always been terrified of emeralds because they are soft and I'm clumsy and I've heard so many horror stories so I was surprised to fall in love with an emerald!
Love works in mysterious ways.
Without further ado, here she is.
Vintage all original platinum ballerina style with center 4.3 carat GIA and AGL certified F1 minimal treatment.
If you are not a ballerina style fan no worries I get it! My style is "more is more" and dainty doesn't work on me.
I just need to decide which hand to wear her on. My right hand seems the obvious choice but for some reason she gravitated to my left.
She needs resizing so I'm still deciding.
The photos don't capture the true green of this stone!
She makes me feel just like Elizabeth Taylor so I'm naming her Liz.
Thank you for letting me share.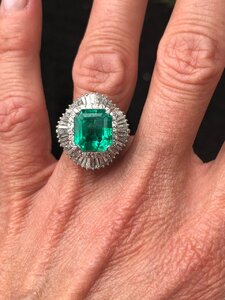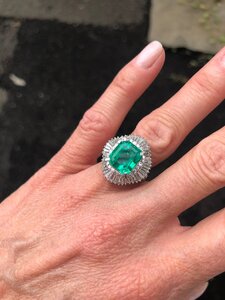 "