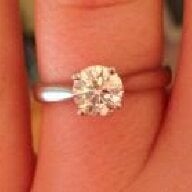 Joined

Dec 13, 2009
Messages

936
Alright ladies, my first dress shopping appointment is on Sunday. Does anyone have any advice for me? Should I wear Spanx? I know they will probably be helping me in and out of the dress. I am slightly self conscious, but I'm not sure I plan to wear Spanx to the wedding. I also don't currently own Spanx, so I would have to go buy some.

Hopefully they don't mind that I am bringing 5 people. I know that's a lot, but I'm bringing my mom, my sisters, future MIL and future SIL. I want them all to have a part in this and I trust their opinions. I already have some ideas of what I want, but I really have no idea what anything will look like on me. So, I'm going to keep an open mind.

So any advice for a first timer?