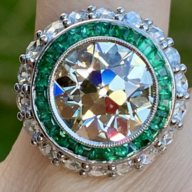 Joined

Sep 18, 2003
Messages

56
This is my first colored stone project, and I'll start with a disclaimer that I know very little! Awhile back I posted asking about Instagram Tourmaline vendors from Pakistan, and got some good advice. I decided to be adventurous and did buy this 12ct Blue/Green (represented as "Lagoon") tourmaline, which is included but has (to me) a very beautiful open color. The shipping process was interesting as stones cannot be shipped directly out of Pakistan but have to be carried by a courier to another country, in this case Bangkok Thailand, and shipped from there. I followed the advice on the thread and asked the poor vendor for many, many photos in different lighting conditions. That said I did still go ahead with my possibly risky adventure. Thank you!
Vendor's photos from outdoors, indirect sun, maybe some saturation photo tricks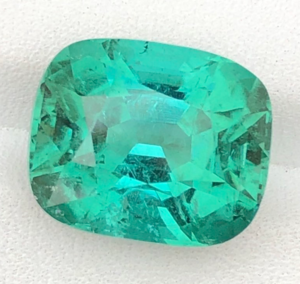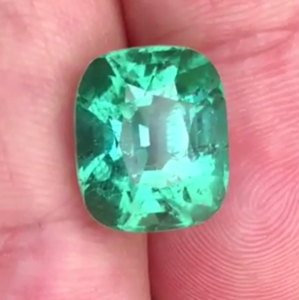 Vendor's photos indoors but with bright indoor light: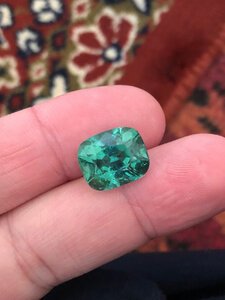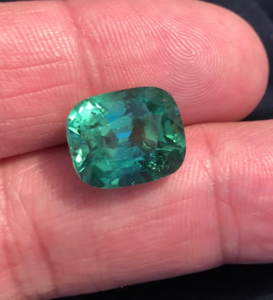 Indoor video:
Direct sunlight: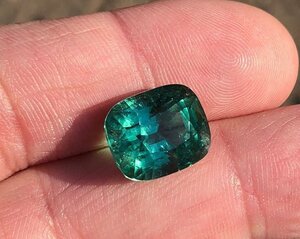 When I received the stone, I felt the vendor's photos were pretty accurate except it's more blue tinted than green in real life. This photo is closest to what it looks to me and I did adjust it to push the blue color up and green color down.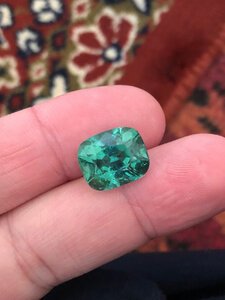 I also took a few worst possible photos of it in very dim yellow lighting. Still colorful!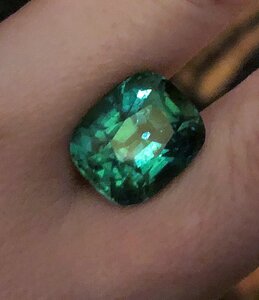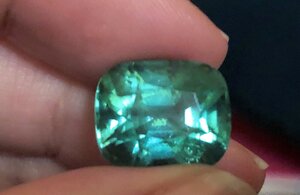 However, the stone has a problem and that is that at typical angles, half of it is dark and mushy where the facet geometry can't be seen any more. Because of how open the color is, I think the problem is the cut, which is a native mixed cut. It's really hard to see in these photos but the full sunlight one shows half the stone in darkness: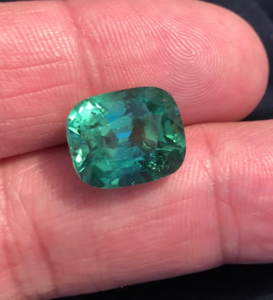 I contacted Dan Stair to see if he could improve the cut and he was lovely. I was a little worried that this was the point I would find out this IG-Tourmaline-Pakistan adventure was a really bad idea and something was super wrong with the stone. He felt the color was very nice and that I paid about half of the wholesale price of the stone as a result of my adventure. (Nice side effect!) So far so good.
He is going to start with recutting just the lower pavillion to see if we are happy with a small tweak, but will proceed to a full recut if I want. I will post updates as they come in.