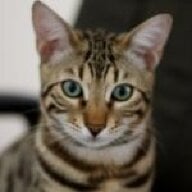 Joined

Jun 4, 2008
Messages

6,893
So here is the story with pictures following.
I purchased a setting from an ebay jeweler from China (jewe2004) and asked them to customize it so that it would be a size 3.5, and so that it would fit a 6.5 mm round stone. Based on this, I bought from Barry Bridgestock a beautiful 6.5 mm green tourmaline from Namibia.
Unfortunately, when the setting came in, it came in too small (my 5.52 mm sapphire didn''t fit in it). I took it to the jewelery store where I had my garnet ring set a few weeks ago (Steve Quick Jewelers in Chicago), and they said that maybe the jeweler could bend back the prongs so that the tourmaline would fit - if it didn''t fit, I asked them to go ahead and set the smaller sapphire in it instead. I also asked them to claw out the double prongs.
I got a call that the ring was done and went to pick it up. They did manage to set the tourmaline, although it is set much higher because of the size difference. I wasn''t too happy about the ebay seller (I messaged them and they said the setting would fit a 5.5-6.5 mm stone...which isn''t really true since a 5.52 mm didn''t fit) but I didn''t want to send it back since I wanted this tourmaline set. Anyway, the jeweler did a great job and the ring came out well so I''m definitely happy with Steve Quick.
So now, here are pictures.
First, the setting as shown on the ebay listing