Hi everyone,
I've been on the market in the last month or so scoping out an engagement ring for my girlfriend (and hopefully future wife!) and stumbled upon this forum, and have spent many an hour reading all the various helpful posts. It has made me realised how little I know about the whole thing!
I'm based in Melbourne, Australia and it looks like buying online would be the best option for me in terms of getting something nice for a good price (who doesn't want that!). The websites I've mainly been looking at are
Blue Nile
,
Whiteflash
, and James Allen. Happy to look at other options too.
The ring setting I'm looking at (based on previous discussions) will be a thin band, solitaire, rose gold ring including rose gold prongs (she has a strong preference for uniform colour between the ring and prongs). She's also got quite small fingers (ring size 3.5).
Based on a budget of ~$15K (in AUD) for the whole thing including taxes (10% GST if from the US), which is approximately $10k in USD. Happy to go up to around $18k AUD (~$12k USD) if the right diamond comes along.
Based on mainly on reading the advice of this forum, I've based my search around these minimum parameters:
Ideal cut
I colour
VS2 clarity (I don't trust myself to be able to find an eye clean SI1 online)
1.2+ ct (bigger the better)
Using these parameters and the HCA calculator, I've been able to find a couple of diamonds:
1.233 ct I VS2 ACA (Whiteflash)
1.37ct I VVS1 True Hearts Ideal (James Allen)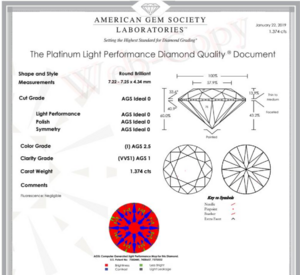 Any thoughts of those two? Would also be very happy to listen to any other further suggestions.
Thanks!