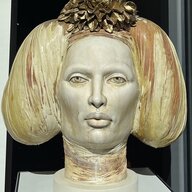 Joined

Feb 22, 2014
Messages

3,565
My DH and I just celebrated our 35th anniversary a few days ago.

As a typical PSer I'm always scanning the lovely estate vendor's websites. I happened upon this emerald ring on 66mint, casually showed it to DH as he loves emeralds too. I drooled and went on with my day. Well I was flabbergasted on our anniversary when he surprised me with this ring! As sweet as he is, this is pretty out of character for him to do this, but I've had a pretty rough 5 months health wise. Anyway, here she is! And yes, everyone says emeralds are hard to capture in photos. They are! This emerald is so much prettier and richer IRL. She is a lively and bright color, very clean. 1.79 carat with two baguettes totaling .42 ct high color VS. The setting is platinum with the prettiest scroll work. I also want to recognize 66mint for their excellent customer service and phenomenal jewelry pieces.
Thanks for letting me share!