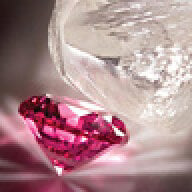 Joined

Oct 17, 2008
Messages

1,069
As some of you may know, last year I was desperate to change my yellow gold engagement ring to white gold. I considered all options, from rhodium plating it, to having a reset...in the end I made a hasty decision and purchased a white gold ring to wear in its place.

Big mistake. I spent a fortune on this ring and have come to really dislike it. It was invisible set, very blocky and square.

When trying on wedding rings it felt really uncomfortable next to them as it was a thick band, my fingers could not close properly and it left a gap between my fingers. The wedding band I have chosen is quite flat so this ring on top made my finger reall uncomfy.

So I am in the process of trying to sell on the ring I bought.

Anyway, today my yellow gold solitaire goes in for a reset. I have spoken to the jeweller who will do this for me. He has gone through details with me and is ready yo have my diamond reset into a much more pretty and comfortable setting.

My diamond is only a modest 0.33 carat stone, it will be set in a four prong setting with channel set diamond shoulders.

I can''t wait!