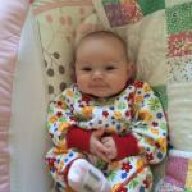 Joined

Jun 23, 2011
Messages

1,442
So my DH has had a fever now since Sat night, and I'm really starting to worry.
On Saturday evening he went to urgent care with a fever of about 100, they gave him amox tr-k clv 875-125, which as best as I can tell is 875mg of amoxicillin and 125 mg of augmentin (forgive me if that's misspelled) three times a day. That night his fever spiked up to 103.6, but eventually came down with the motrin to about 100.
He's been taking the antibiotics religiously, and has been keeping an eye on his temp since then, when it creeps up over 100-101, he takes 600mg motrin (he's a big guy) and it comes down...but it takes about an hour and a half to two hours for it to come down. They suspected that he had an abscessed tooth from dental work he'd had done because his jaw was sore, so that's the reason for the antibiotics.
Overall he's been a trooper - eating and drinking fairly well, trying to keep in good spirits, but his energy level is pretty low and he's just "off". Today he went to another dentist, they said he doesn't appear to have an infection/abscess. So he trekked off to the urgent care again (hate our impossible to get in to see MD). They said it sounds viral, and sent him home to continue to finish the antibiotics after drawing blood and doing a urine sample. Urine came back fine. They won't have the bloodwork results until tomorrow morning.
So tonight we tried to see how he'd do without motrin and it was a bad idea.

His fever shot back up to 103. He took the motrin, and after almost 2 hours it's still at about 102.5. He has virtually no other symptoms at all. Tiredness, bloodshot eyes and a moderate headache in the front of his head in the forehead/behind the eyes.
I'm just at a loss. I know it's not been the full 72 hrs, but shouldn't he be seeing some improvement in the fever by now? I'm just beside myself with worry.
So I'm not really sure what to do now, other than race him off to the ER if it goes up beyond the 102.5-103 range. It just seems so strange.
I'm really hoping that someone out there has seen something like this and can tell me what their experience was. I've googled my eyes out and that just left me more confused and worried than I already was, ugh.
Thanks for reading. I'd also like to make my very first PS dust request. I know it's powerful stuff.