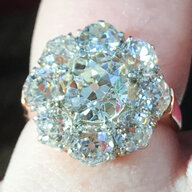 Joined

Nov 17, 2013
Messages

2,309
So, it started with 24k bands I got on Etsy, then one 24k bangle that I had made locally, and it got out of hand. I had too many made. I am considering parting with the 5 on the right. They were made with 14 gauge wire and if someone else wants them, I would happily pass them on.
These are around 8.25 inches in circumference (around 2.6" in diameter). 24k (.9999) pure gold is soft, and you'd want to wear them out for dinner or at home relaxing or something, rather than while working out or gardening. 14 gauge is 1.63mm.
I did the math, and I paid about $4500 for these five. I'd sell them for $3800. If you have interest, you can contact me through my Loupetroop listings, username: Amethyst.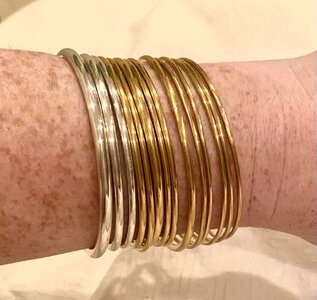 Last edited: