Morning all,
Wanted to provide my experience in sourcing a diamond through Martin Sheffield aka USACertedDiamonds. I would definitely work with Martin again in the future, as his pricing is unbeatable compared to everyone else.
Overall, Martin was very helpful in both sourcing a stone and making me feel comfortable with regards to the buying process. I initiated a conversation with him through his website and called a couple days later to followup. From there, he sent me a list of diamonds that he had available in virtual inventory. (I found that the listings on his website aren't as updated as his private listing).
I eventually settled on a diamond in Maryland, and asked him to provide feedback and then place the order. From there, I paid him for the stone, and it was shipped to Los Angeles roughly 1 week later for me to pickup. He was very patient with me as I called him everyday after payment to check on status as well!
Notes below are tips for anyone looking to use him in the future:
It is highly advised that you reach out to Martin and communicate with him through phone. He picked up 100% of the time I called him, but was more hit/miss on email (I assume the volume he's dealing with is not conducive to email)
I split my payment to him with 30% being put on a credit card, with the rest wired to him. If you are comfortable, wiring money is significantly cheaper than charging on a credit card. For credit cards, Martin simply passes through the merchant fee to you (in my case, it was 3% additional). In addition, because Martin is based out of Canada, his credit card purchases are received in CAD, which he then converts back to USD. As a result, you have currency conversion costs going both ways, going from USD -> CAD -> USD. This combined with the merchant charge ended up coming in at around 6% more expensive than had I just wired. I was able to use this to get a credit card sign up bonus, which offset the additional cost, but I can't see it being worth it in any other scenario.
Below are additional notes to my whole diamond buying process for anyone interested as well:
I had initially targeted to buy a diamond from

Whiteflash

, who seems to be the recommended vendor on this forum, but looking at the premium that they charge for their Super Ideals, I couldn't justify the additional cost.

Comparing pricing, there didn't seem to be a large markup going from GIA 3EX to AGS ideal (maybe +5% at most), whereas going to

Whiteflash

's ACAs came in at 30% more expensive. In my case, it would have translated to ~$7.5K additional cost going to an

ACA

.


I instead figured I would go for an AGS Ideal 0 stone, or a GIA stone that would fall within AGS Ideal proportions.

Going through the list of available diamonds, I pulled all the GIA 3Ex stones available and ran them through the HCA to confirm they were <2

From there, I would then drop the Table, Crown Angle, and Pavillion Angle specifications into diamondscreener's cut estimator website to check where the stone's proportions fall in the AGS grading systems. I looked for a stone that fell smack dab in the middle of the AGS proportions. Below is where my stone ended up falling.

​
Shot of the diamond taken on a not so good cellphone..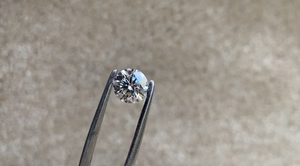 ​