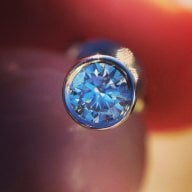 Joined

Jul 7, 2004
Messages

10,704
Kind of a spinoff from the favorite beauty products here. Last week I had surgery to remove melanoma, complete with staples to keep the wound closed (fun surprise!) I know this is the first of many more issues with melanoma and other forms.

So share what you like!

I am TERRIBLE about putting spf on my arms and scalp and ears. I am fairly diligent on my face neck and chest. I don't own dresses, skirts or shorts (hate. HATE.) so I don't generally have to apply from the boobs down besides my arms.

I rotate a few on my face that I like, but none that I LOVE.
--Kanebo Allie is really nice
--Volition's new one though it's not waterproof/resistant and that's a bit of an issue, as is price. But it's nice under makeup.
--Murad City Skin SPF is nice, but again pricey...ok under makeup.

Some OK/Dislikes:
--EltaMD has never been a winner for me. It beads up and breaks me out and it isn't physical. I haven't really loved any Supergoop ones though they're really nicely rated. I got some Coola Mineral that was ok for body.

My biggest thing is that I really don't like chemical blocks and many of the Japanese ones that I would otherwise get are either a combo of physical and chemical OR are chemical. The Kanebo one is nice but it's not physical or a mix. By physical I mean Zinc and Titanium Oxides. The biggest thing is that anything on my face must not only be water resist of some kind but work under makeup and man that's tough to find.