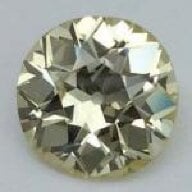 Joined

Jun 30, 2016
Messages

318
I've posted a few times over the last couple of months about a diamond I recently inherited from a family member.
Currently, CVB is crafting a beautiful new home for it.
Meanwhile, on the advice of my appraiser, I sent it to GIA to be graded. I knew it was very yellow in color, and the appraiser suggested it might qualify as a fancy. Well...the results are in! She's FANCY! And not even "fancy light"...she's full on "fancy yellow"! I am pretty excited about this development!
She was also measured as:
3.96ct
10.30x10.59x5.86
42% table
56.1% depth
and clarity: SI1 (I was guessing I1 b/c I can see the main inclusion).
Here are a few unmounted pics CVB sent me where you can really see her color. I can't wait to see her set!