My first SMTB post, not without ambivalence! I have always loved fancy yellow diamonds so for an anniversary, I bought a loose stone, and then I did a rookie jewelry mistake and picked a setting and ordered it according to the specs of the stone. So the setting was "custom" in that it was built around my stone, but with fancy yellows, I learned it is best to have a jeweler have the stone in hand so they can do everything they can to bring out the yellow. Consequently, I felt like my FY looked more like Fancy Light. This was the original stone with the setting I bought: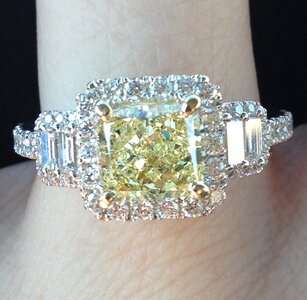 It's still really pretty, but without a gold cup underneath, or higher gold prongs (the prongs were 14k) I just thought it never looked as yellow as it could. So then after a couple of years, I thought about resetting but couldn't afford it. I had a local jeweler bezel it for me, so it ended up looking like this: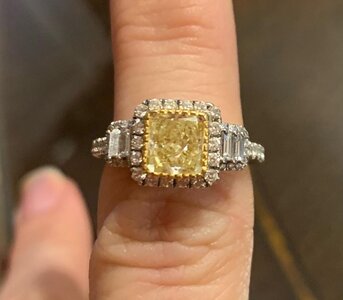 A big improvement to be sure. But it always still bugged me because the bezel covered the edges of the diamond, making it appear a bit smaller than in the prongs, and also the halo stones were also someone overshadowed. At this point I was getting less enchanted with the pave style of diamond halo anyway, and decided that when I could afford to reset the stone, that I would do a halo of much larger diamonds. Also, since I like bezel but also prongs I wanted to go for a faux bezel. So anyway, I did just that - faux bezel, still with prongs, in 18k gold and then an 18k cup underneath the stone, with much larger white vs diamonds. Here is the result: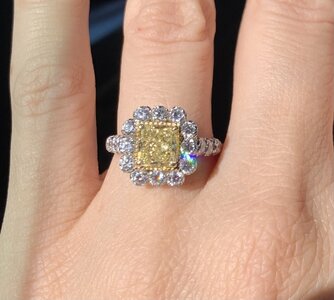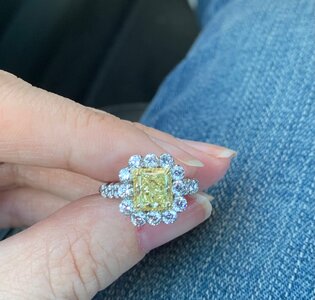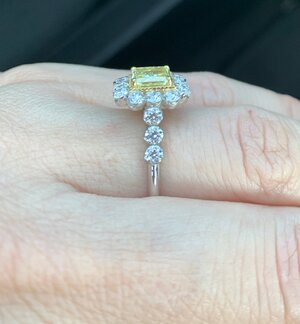 The outer diamonds are white and blinding and the yellow center just glows like sunshine
The reason I said I have some ambivalence is that I was a bit unprepared by how large it would look! Despite that being what I asked for! I had also asked to minimize the appearance of prongs as much as possible, so I also have a scalloped look as you can see the outline of the stones. I think I was still expecting a "square" look. Nonetheless, my yellow diamond looks super yellow! And to me at least, it looks so much larger in this setting than in the other.
It also sparkles like crazy so I thought a video would be fitting:
So voila. It has been fun being part of PS forum and I'm glad to get to post on SMTB
Last edited: