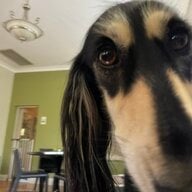 Joined

Jan 22, 2014
Messages

5,685
Well my little treasure has arrived.
No thanks to USPS who currently isn't shipping to Australia (amongst other destinations) due to Covid (reduced flights, reduced workers) so eBay and I have been on an enforced "break" unless the seller will send via FedEX. I was in luck.
This was just described as a platinum ring 6 grams with a 1.25 carat estimated I clarity cente diamond plus sides. I looked at the photos and thought "hmmm, that might actually be a fancy white". So I bid a modest amount and figured I'd be out bid. I wasn't.
So $650 for this one.
Its weird to photograph using an iPhone. Does weird things under bright warm light ha ha.
Hard to describe the effect. It's like hazy but you can still see the facets. It looks almost mauve in sunlight. Yes it has strong blue fluorescence.
Some carbon specks near one of the prongs but I figure the setting has to be worth around $300 so $350 for an interesting 1.25 carat diamond isn't bad going. The added bonus is that it fits nicely in my diamond ring guard. Ring is only a 6 so it needs a resize up to a 7.