Been trying to find a GIA Fancy Vivid yellow diamond (cushion or radiant) to put into a pendant for the missus as a gift. $5000 as budget with little wiggle room.
I went the PriceScope route for the engagement ring and I still catch her admiring that stone frequently. During my hunt, I learned about the proportions that go into cut and their importance for light performance.
I've searched on the forums for hints of what proportions to look for in a Fancy Vivid. The most common statement I come across is that FCD are cut for weight and color, not light performance. I get that.
But as a consumer, I want a balance of performance and color and face up dimensions.
I found a GIA Fancy Vivid yellow with proportions ideal for colorless stones and the photos are disappointing. This Fancy Vivid looks like an Intense.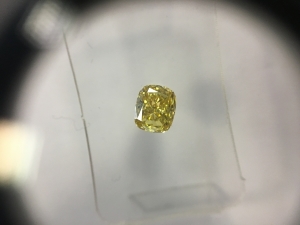 The color I'm after is something like this:
http://www.leibish.com/yellow-diamonds/fancy-vivid-yellow-cushion-26220
But this one is way above budget.
Questions:
1. What proportions should I be looking for to maximize both light and color performance?
2. Am I thinking about this the wrong way?
3. Is the photo above REALLY how the diamond will perform when mounted? Or is it just the way they took the photo? Leibish has white background while the vendor in the photo above uses all transparent backings...
Thank you!