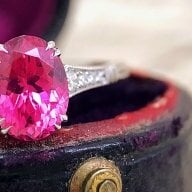 Joined

Jul 27, 2012
Messages

286
So I realized my collection has grown, rather a lot (and I'm waiting on two packages in the mail!). It started as an engagement ring (concave cut sapphire by Richard Homer) then I added the sapphire and diamond band, which is from Blue Nile(not my wedding ring) just for fun/travel ring. I thought that might be it but I had clearly been bitten by the bug. When I finished paying off my grad school loans, I had my pink spinel ring made (
@minousbijoux
for the amazing spinel and thank you Caysie for the lovely setting). After that I decided I wanted a necklace and wanted it to be made by David Klass. The stones -- amethyst, tanzanite and garnet were cut by/from Jeff Davies, Yvonne Raley, and Gene Flanigan (preloved) -- and I couldn't be happier with how it turned out. That was supposed to be it, but then I was bitten by the grey spinel bug and The Gemstone project was so helpful in helping me find something I loved. I thought I would set the stepcut grey spinel quickly but I've really struggled to decide on a design. While I was dithering I saw a deal on a blue green cushion tourmaline I couldn't pass up ( I wanted one but figured I'd be waiting a while) and somewhere along the way I started collecting for a second necklace. Most of the stones for the second necklace are from FB auctions or preloved. Not pictured are some lavender sapphire pears (Yvonne) to make into drops for diamond earrings and some purple sapphire melee (Yvonne) to hopefully go with the spinel in a ring.
In any event, most of the little guys (in the second picture) are going to be set in a sprinkle necklace. Now I just need to decide the order/spacing for that. I'm definitely open to any and all ideas. The diamonds are earrings from my late grandmother that I don't wear anymore because my husband gave me new studs, so I'd like to put them in the necklace so they will be worn.
Also sorry for the crappy pictures but since I had everything out I figured I should at least take some.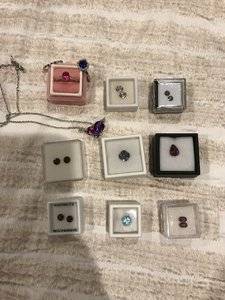 Sprinkle Necklace
Top -- diamond studs (3mm ish)
Second Row L-R: Purple Rhodolite Garnets (5.5mm), Pinky Grey skinny oval spinels
Third Row: Medium grey cushion spinels (4.5mm ish); Light grey chunky oval spinels
Bottom Row: Red Garnets (6mm) -- I'm not sure these are going in the necklace -- I think they are too red.