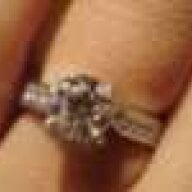 Joined

Mar 21, 2007
Messages

471
I have a question for all of you out that have gotten married, plan to be married, in the process of getting married etc.

My parents have recently separated after 35 years of marriage. (well, 1 year ago) to be exact. My mother and my father unfortuantely do not get along at all. I haven''t spoken to my father in approximately 6 months and my mother has said that if I invite my father to my wedding, she WILL NOT attend. I do have mixed feelings about inviting my father (when i do get married) as he has done many things to disappoint me as a daughter and I really don''t know whether or not I even want him there. I have always had a closer relationship with my mother and even though I do think she is being slightly unreasonable by saying she won''t come if he''s invited, I do understand her pain and the fact that she does not want to see him. My little brother says that it would be wrong if don''t invite my father, but if I do, i will be hurting my mother. Ugh...I really think we should just elope but my SO thinks that would be ''disrepectful'' to the family and insists that we will be having a banquet...

Any suggestions would be greatly appreciated.

Thanks for listening!