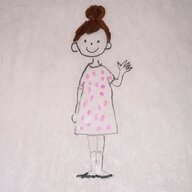 Joined

Feb 2, 2016
Messages

9,637
Okay, this is going to be a sensitive subject for some as it deals with the potential abuse of pain medication and since I know that can be a trigger, consider this a disclosure for what's to come. I also apologize for the length of this.

This has been a really bad year for me. Financial stress, health problems, marriage problems, sick pets, all happening in the same year. I won't go into detail about everything but let's just say that I can't wait for this year to be over.

Disconnected would pretty much sum up how I feel in general from life and people, I spend a lot of time alone. This year I lost a friendship I've had for 20 years, I really don't have anyone I can take to but my point is not to whine and complain but to share an experience I didn't think I would ever have to deal with.

I fell on my knee on concrete a couple of months ago and have been having problems with it since. It got to a point this past weekend that I was just sick of being in pain so my husband had a prescription (Oxycodone) leftover from when he had surgery last year....yes I know this was not the smart decision but I just wanted the pain to stop. Saturday night I took one and an hour later took a second and was fine, no pain and it helped me to get to sleep. Wonderful. The next night I decided to take the two together. Oh boy, I was so out of it that I could hardly move and when I was finally able to get myself to bed three hours later I was lying there thinking my breathing was shallow and I started becoming totally paranoid that I was going to die. The next day I woke up with two thoughts, I LOVE the feeling of being medicated BUT I have to stay away from this or it will become a problem. It took me all week and up until last night I could not get my mind off how badly I wanted to take more and I was carrying this feeling all week and didn't say anything to anyone, not even my husband.

When I did tell him that between trying to eat well and not fall off that wagon and trying not to let my thoughts get the best of me and take more pills he responded with "so I shouldn't go out and get you a chocolate cake with pills crushed on top of it". Really? Now I understand he may not be taking this seriously, he is trying to make light of it because he "knows" it won't go any further but really you don't know, it is really easy for one to become two then you are taking them all day, you aren't doing what you need to do and you become an addict. He said he would throw them out, but they are still in the cabinet. He is not taking it seriously.

I grew up with an alcoholic father but I have never touched anything, never smoked a cigarette, hardly ever drink and shun being on prescription medication. I've been on pain mess after both of my c-sections and an abdominal surgery with no problem. This time though was different and part of it is probably that I wish I could just escape all the $hit I've had to deal with in six months. I refuse though to take it further, I will not do that to myself or my kids. I remember waiting for my father in the window wondering if he would make it home, he was he only parent I had and I was nine years old. THAT is a feeling no child should ever have, I will not do that to my sons.

Yesterday night as I was sitting alone in the livingroom I asked God for help, I said "please get these thoughts out of my head" and today I am less focused on the pills. The point of this is that I did not realize that two little pills would give me this much grief and it is different for everyone but all it takes is a vulnerable person having a bad year and before you know it you are dealing with having to keep your mind occupied or potentially risk ruining your life. I will not ruin my life, I'm going to keep praying, keep my mind busy, and keep moving forward. Someone told me the mourning doves in my front garden are a symbol of peace and good luck. I hope so.