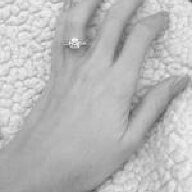 Joined

Aug 7, 2015
Messages

4
I'm looking to upgrade my 2.02 RB to something a little cleaner and sparklier. Hubby originally got me an I/I1 stone that looks surprisingly clean (I might be somewhat blind lol but the inclusions are all white and on the sides) and with less yellow than I expected. He paid $8K in 2014 and it was not certified.
My jeweler is recommending that I get this EGL USA cert stone that is 2.34 ct RB. Jeweler is asking $6500 for it on top of the trade in and he is supposedly giving me the full $8K. $14500 total.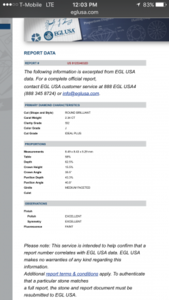 Carat Weight: 2.34 CT
Clarity: SI2
Color Grade: J
Cut Grade: Ideal Plus
Measurements: 8.49 x 8.43 x 5.29mm
Table: 58%
Depth: 62.5%
Crown Height: 15.5%
Pavilion Height: 43.3%
Girdle: Medium Faceted
Culet: None
Flor: Faint
Finish - Polish EXCELLENT Symmetry EXCELLENT
The cut is much better than mine and I did look under the scope and can confirm there are hearts and arrows. But even with my stone being uncert and an I, it looks whiter than the EGL J... No idea how that makes any sense.
Anyhow, based on what he is asking, is that a fair price? Am I being ripped off? Having gotten a 2.02 for $8K, albeit uncertified vs getting an EGL Ideal Plus 2.34 for $14.5K seems odd.
Please advise. I have the stone on hold until Monday/Tuesday and I'm leaving town for a month on business so quick feedback is appreciated. TIA!!