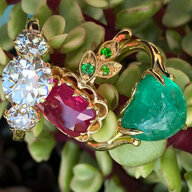 Joined

Oct 19, 2013
Messages

3,567
What's for sale currently on FB? Great price for what it is, or a great specimen post them here!
There may be old threads - but a new one would be great.
Im not on Facebook - so be sure to screenshot all info and pictures so we can oogle and not be let down with the eye candy if the link goes dead.
no innuendos
@fredflintstone
-that baffles me.
If one wants FB vendors and their gems (and the safer purchasing environment there for consumers you prefer over IG) to be discussed on PS- someone needs to start the discussion. Not just state its superior, wonder why it's not talked about here, and leave
hope to see much participation here