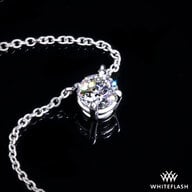 Joined

Sep 14, 2020
Messages

105
I found a J color
CBI
close to 2 ct but am hesitant to pull the trigger because I fear the color/tint may be noticeable at this size. Does anyone have a J
CBI
in the 1.5 - 2ct range that can tell me more about their experience? In what lighting do you typically see the warmth? Does the warmth bother you? The stone would be set in their New York Classic setting in platinum...
If you were to do it over again, would you go for a
CBI
that is slightly smaller (by 0.25mm) that is, say an G, H or I color instead?
As a side note: I'm familiar with CBIs and their outstanding reputation for being bright and sparkly. I imagine this will help mask some of the tint that could be observed. I'm also familiar with their upgrade policy but my SO is more sentimental so don't know that we would take advantage of it...perhaps for an anniversary down the road.