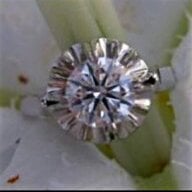 Joined

Nov 17, 2009
Messages

2,523
Today is a wonderful and exciting day!
After a long break from bling purchases, i decided that i wanted a colored stone ring for a change and bought a beautiful 2.74ct heart cut rhodolite garnet with the intention to have it set in a yellow gold solitaire ring. After i had dicussed all the details with my jeweler, i dicovered that i had lost or misplaced the stone. I was extremely disappointed and thought that i would never find such a beautiful stone again....until i found an even better one! A 3.08ct, VVS clarity heart cut rhodolite garnet, which sparkles like crazy and is mesmerizing!
I finally got to give the new stone to my jeweler and three weeks later he called to inform me that the ring was finished! That was last Friday, which, by the way was my birthday, and i had already left from down town in order to go celebrate with my family, so i lost the opportunity to wear this beauty on that special day!
Finally today, my jeweler came to my office with my ring in one box and another little Christmas gift in another one! Under the bright Greek sun, this ring sparkles so beautifully! I am very excited to be its owner and i plan to wear it a lot as a right hand ring

I tried to take some decent pictures but unfortunately the sun had disappeared when i arrived back home from the office. Nevertheless, nothing was stopping me! So i will post the photos of the new ring that i took this afternoon and i will try to take some better ones when the sun comes out in the following days! Some of them are of the ring worn alone and in some others i paired it with my Cartier trinity ring and my brown diamond half eternity band. Since i was on a roll, i also took some pics of my wedding set, which - as some of you might know - i had recently reset and i really enjoy wearing every day!

I will also post two pictures of the little gift that my jeweler gave me today! Its a lucky charm for the new year 2017 which can be worn around the neck as a pendant! So, without further delay, here are the pictures ...(please excuse my very dry hands
)