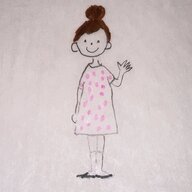 Joined

Feb 2, 2016
Messages

8,132
Just looking to get thoughts on this scenario. Have a friend who had a baby last week, she has had visitors regularly so I wasn't going to visit right away. The other day she said I could come in the evening this week and she also wants me to come next week so our sons can play together, they are both two. I asked her when is a good time, she said really anytime, okay how about 6:30? That would be great was her response. Okay. I asked her what she could use for the baby and she said a Sun hat would be great, went out and found one! It was on sale too, I get excited about these things lol!

So, on to the visit. I get there and greet everyone, give her the gift which the two year old rips open, he is excited to see what his sister got, I was thinking I probably should have gotten him a book or something. Oops. She hands me the baby and I sit with her for a bit. Her husband is doing something in the adjacent kitchen but not obvious that it's dinner. They kind of bicker back and forth about the food processor and he leaves for the gym. Or she thinks he left but she's not sure, he could be upstairs. Okay.

It's about 45 minutes at this point and she turns to me and says "You need to leave now, I need to make dinner". She kind of laughs nervously and asks if that is rude and feels awkward about it. She asked me directly if it was rude and I said, well I don't have people over my house generally so I never have to worry about asking them to leave when I've had enough. Which is true, only a handful of people come over but I'm happy to meet people out or go to their house, maybe part of being introverted.

Then her son reminds her that I didn't see the baby's room which at this point I just want to go since I know she needs to do stuff but she insists we see the room so we all run upstairs and see the room, really cute and I tell her how nice it looks and then run back downstairs and out the door.

You know, I was surprised she didn't mention they normally eat dinner late or casually just say that visits will be short (totally understand that) I do live 20 minutes away so I probably would have just skipped this visit and waited until next week. Honestly I would have left at the hour mark but I was surprised when she just turns and told me to leave.

Did I overstay the welcome here? Help a socially awkward girl out.