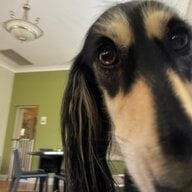 Joined

Jan 22, 2014
Messages

5,507
Yay, my delivery finally arrived. With Covid here in Sydney mail deliveries are few and far between it seems.
As mentioned in other threads I have "a bit" of a problem with Opals, I just love them and can't stop buying them.
There is a seller on eBay Milano Jewelery who now has me as a frequent buyer. Shhhh, don't tell DH.
The jewellery is in silver and sort of great Fashion jewellery standard, not like "fine" jewellery. The gems are natural ie not glass or CZ but I suspect treated within an inch of their life! For the price point, that's fine in my opinion.
Ive bought a few of the "white" Ethiopian opal rings and been well pleased with my purchases. I decided to try out their Black Ethiopian opal. Black Ethiopian opal is a lot rarer but due to the hydrophane nature of the gem it is possible to introduce "black" into the opal. Whether or not this is the case with my black Ethiopian opal I don't care to test, as it will wreck the opal.
My thoughts, in low light ie inside the opal is meh. very little colour play. However add a bit of brighter light and Woo Hoo.
The halo gems are sapphire (treated I presume) and the silver setting has been blackened as well.
If you want to try Milano Jewellery for yourself, they have lots and lots of auctions. I try and get mine as only bidder. Just carefully review the rings, some are a lot better than others. Shipping seems to slow (from Thailand) here to Australia it's taking up to 6 weeks.