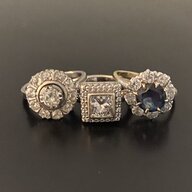 Joined

Aug 1, 2008
Messages

3,312
I was wondering what people's thoughts/opinions are on eternity ring and bands.

I get them.... And I don't get them. For channel set bands or bands with bezel set stones, I get them. You never have to worry if it's turned correctly, it's always "right".

For larger carat weight shared prong and similar rings, well I don't get them. I think it's the side of my that doesn't understand paying for something that you're not going to see often as you're wearing it, especially if the ring is such that it doesn't have a tendency to spin.

I've seen at least one 3 three stone ring that was made with a larger carat weight eternity band-maybe .20pt stones (cannot remember who it belongs to). It's beautiful, but I really don't get it. It just seems like a significant amount of spend for something you're really not going to see much. And I worry about damaging the stones.

All this being said, I do have a cheapy bezel set eternity band that I wear and do enjoy, but I can't say I would ever spend a thousands for one.

What are your thoughts? Or if you have one, why did you choose it?