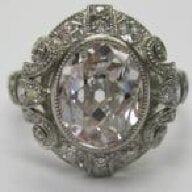 Joined

Jun 6, 2010
Messages

6,386
I'm horrible at finding threads via the PS search engine. Can anyone dredge up some photos of eternity bands with stones ranging from 3-5 pts? I really want to have two bands made for stacking purposes, but can't picture what this size stone will look like. I tried on a 10 pointer, so I know that's larger than what I want and I also tried on one with half pointers and that was too small...so, if anyone either has one in this range or can find a couple of photos, I'd really appreciate it. I have a big birthday coming up the end of Feb. and I'm trying to convince hubby to let me fly up to NYC to meet Yeukitel and get these bands. My trip up there would be a day trip (it's that or drag the kids with us--no thank you!), so I'd want to have as clear an idea as possible so that IDJ would have some options for me to look at.
If you're posting your own band, please also tell me your ring size, as I know that makes a big difference in perspective. Thanks so much to anyone able to help!
I'm not going to bother admin. by asking them to delete this thread, but I managed to find a couple of photos, so please ignore my request.