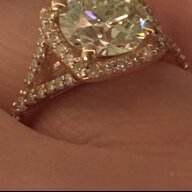 Joined

Sep 1, 2016
Messages

56
After debating for weeks and weeks about what I really, really wanted, finding one stone that only fit the bill in terms of size and budget (which we returned), Hubby and I finally found a GIA certified 2 carat M color VVS2 that is one of the most sparkly diamonds I've ever seen. Scored 1.3 on the HCA. Taking a picture of her with my aged cell phone is a challenge, but here are a few to kick it off.
We chose a simple half-round 18k yellow gold 6 prong setting, and while I love it the love for this setting may not last. Am pretty sure I need to go down at least half a ring size because it slips all over the place, so I wear my eternity band on top to keep it from falling off. Had wanted a band that would be flush with the other two, this seems more prominent than the one I tried on at the jewelry store. I did take it back, wondering if they'd ordered a knife edge by mistake, but was assured that no, this is a half round, it just has some "heft" to it to balance out the stone, and that knife edges have a pointy ridge. This also has a ridge, though it doesn't come to a perfect point, so I'm still wondering.
Has anyone else noticed that with larger stones their rings tend to flop back and forth? Wondering if it is just the band size...
Any comments about the setting/sizing would be most appreciated!!
The prongs in real life are hardly noticeable; in the photos they can look a bit oversized.
I love how she sits higher up on my finger, and even though she's an M the color is surprisingly not all that noticeable. There is an overall warmth which I LOVE and thinks she looks more real because of it, and find myself terribly distracted while driving. Or walking. Or going into a store...oh my word it's almost embarrassing, she looks so ALIVE under those lights.
So without further ado, here are the pics: