Hey everyone I recently started the process of getting my gf an engagement ring and was wondering if I could get a little guidance/advice.
I know she prefers a vintage feel and originally liked the old mine cut cushion but as of late has been eyeing ovals. That being said I started working with Distinctive Gem and have a Heritage Elongated Cushion in route.

A little larger than anticipated but without a report I honestly don't know enough to say if this looks good or wow so far.
I wanted to try doing a halo similar to this one but I couldn't find anymore info about it or who did it. If I wanted it to be similar what would the correct way of describing that be?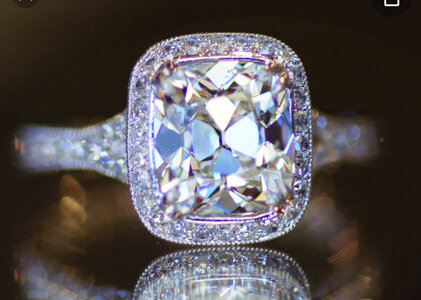 For the band I know she wants something along the lines of this, but given the larger diamond size we might have to pair down in some area. Plus until I can get a rendering of it all together I'm worried it might have too much going on.

Thanks for the input.
Last edited by a moderator: