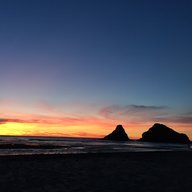 Joined

Oct 3, 2016
Messages

26
Hey everyone,
In February I plan to propose to my wonderful girlfriend. Months ago, I asked her to look around at settings online, and send me a few ideas. Every setting she liked was white gold, with a split and/or twist style to it. She had no requirements on the diamond, other than a preference of being very clean, and near colorless. The ones she sent me were all half-full carrot. So, with all that, I felt comfortable going forward in my search. She appreciates quality, but would say yes if I showed up with a Ring pop. All the more reason for me to go above and beyond for her. This will be her first quality piece of jewelry.
Truth be told, in my circle of family and friends, people don't typically go for designer jewelry, or hand picked diamonds. All the guys I know show up at Kay's, or Harry Ritchie's and get whatever the salesman pitches them. Not me, I have a habit of relentlessly researching things, to get the best for my money. I wanted to get her something unique, high quality, with a diamond that would stand out compared to others. We have one jeweler in town that is highly regarded by locals, carries a number of designers. I fell in love with an A. Jaffe setting they had. I was confident I had found the one. They wanted to sell me a .72 carrot H color VS2 diamond with it, but their markup was more than I wanted to pay, and I wanted to find at least a .75, G or better diamond. So, I then researched diamonds, everything I could read on clarity, color, cut, I read. I can't thank the posters here at Pricescope enough. So many of my Google searches took me to a thread on this forum with the information I was seeking. Your expertise has been invaluable to me. With you help, I think I've got something that will make her do back flips. After viewing at least 100 GIA certs, I found the diamond I wanted. It is a .75, G color, VVS1 clarity, excellent cut, no florescence diamond. I know the VVS1 is way overkill on clarity, but it was simply a personal choice to go that high. She had also expressed being color sensitive. I ordered it from
James Allen
, it came in timely fashion, incredibly well packaged. So I gave the shop the exact measurements of the diamond so that A. Jaffe could build the setting for it. I also had them make a matching wedding band at the same time, since they'd have the engagement ring to match it to. They told me 5 weeks, and sure enough it was done in about 4 1/2. I had the shop set the diamond, and the rest as they say, is history.
I can't be more excited to give it to her. She's going to love it. I'm so proud of the finished product and all the time I took to research. Thanks again for all the information here on Pricescope. I've been lurking for months reading all your posts. Here's just some cell phone photos of my mother and I admiring it.