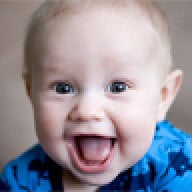 Joined

Jun 28, 2006
Messages

3,960
When we started talking about getting engaged, my FF mentioned that he would want something too. After all, it''s not fair if I get a diamond ring and he gets nothing. I agree with him so every now and then when he sees something really expensive that he wants he''ll suggest it as an engagement present.
Recently one of his best friends bought a huge plasma tv and now that''s what he wants. We went to look at the plasma tvs, but they were a bit out of our price range. The projection screen ones, however seemed to fit nicely. He found a 56" one that he really really likes and wanted to buy immediately. I convinced him that he needs to research the different kinds of tvs more and figure out what it is EXACTLY that he wants since it''s not like we can bring it back in a few months when he knows more and wants something else.
It was kind of funny, I think I finally understand how guys feel when they''re ring shopping with us. My FF is really into technology (he''s a software engineer) so he knew a lot about what he wanted, but he still has a lot to learn (he reminded me of me at the beginning of my diamond search

). The one he''s in love with costs a bit more than my ring

, but best buy has 18 month free financing so the monthly payments would actually be a bit less. I have the money to pay for the whole thing now, but it would make me nervous to drop my savings that low, so I convinced him that we need to wait until I find a job (I''m job searching since I just moved to this state about a month ago to be with him). He seemed pretty disappointed that we couldn''t buy it RIGHT NOW and it was cute because I''m sure that''s how I looked when we bought the ring and he told me I couldn''t have it yet. I also told him that it wouldn''t be fair if he got his engagement present now and I had to wait (possibly months!) for mine. I think he might be starting to understand how hard it is to wait for something you really really want. Maybe I''ll be getting that ring a bit sooner than he''d originally planned

.
The tv he wants needs to have the bulbs replaced every 2 years or so and from what the guy in the store told us, they cost about $250. This along with the fact that it costs a bit more than the ring to start out with just might help me in my negotiations for a different setting some day
. I''m bad. I know.
Is anyone else getting their guy an engagement present?