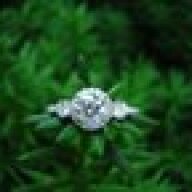 Joined

Jul 20, 2009
Messages

73
Hello Everyone! I''ve been lurking on this website FOREVER and have reallllly enjoyed looking at everyone''s rings! They are all stunning! I recently got engaged on July 3rd and he proposed with my dream ring that we picked out together. It went perfectly WRONG in every way, but it was hysterical in the end. He planned on doing it July 4th, but as the day got closer, the weather forecast was looking worse and worse (which turned out to be true, it rained ALL day and no fireworks that night

) So that was the first wrench thrown in. So he pushed it to Friday, the 3rd. He''d planned on taking me to this local restaurant Mama Corolla''s (go there if you are ever in Indianapolis!) where we had our first date, but as we drove up to the restaurant (they don''t take reservations) they had a sign up saying they were closed for the week for summer maintenence! DOH! Anyway, we ended up eating at another yummy place in the area and he told me he had a surprise for me and that he was taking me to see the Fireworks at Symphony on the Prairie at Conner Prairie (a place you can go and re-live the pioneer days!) We sat outside and as the finale of fireworks was going off he turned to me and told me he had one more surprise for me, got down on one knee and asked me to marry him! I of course starting jumping up and down and knocked the ring out of his hands! And of course, it was dark, but we found it! So it ended up being perfect even though nothing went right to begin with (which I think is hysterical!) Ok, sorry that was an extremely long story! And last but not least, Pictures and specs:
The ring:
Ritani
Bella Vita 3 stone ring in white gold
Center Diamond: .70 carats, H color, I2 clarity (eye clean)
Surrounded by .43 carats for a total of 1.13
And that''s all I know, I''m not sure of dimensions or anything. But I am just in LOVE with it and how delicate and sparkly it is!