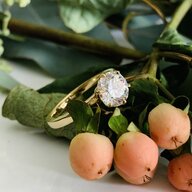 Joined

Oct 17, 2019
Messages

31
Hullo!
This is my first post so I'm not sure if I'm posting in the right place (was trying to put it into the engagement ring folder). I've learned a lot from PriceScope and decided to join mostly to share the results and also to give an example to other people interested in yellow gold prongs! I will likely reach out when it comes time to get a wedding band to match
First of all thank you for all your wisdom and the information posted.
I'm in Canada and could not find a store that carried diamonds cut so precisely. I am so happy I was so picky because the stone is so clear and sparkly. Honestly even with the US to Cnd conversion BG was still the better price for the size and quality. My colleagues and friends are blown away. I initially selected a J color stone to get more size but was advised in order to achieve the contrast between the prongs and diamond I should go for an H, which is what I did.
I wasn't keen on the Tiffany style because I wanted a really low set style with pointy claw prongs but I love it! The prongs are less prominent that what I envisioned but no complaints here.
1.4 H on 5.5-5.75 finger (ring is sized 5.75 and a touch loose which is what I wanted). When I swell, I swell to 6 or so!
The white photos are from BGD.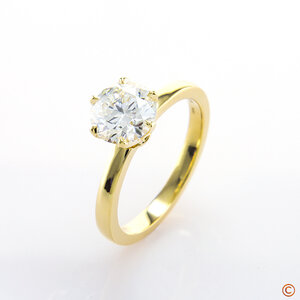 Last edited: